Long-Distance Moon Story
Sloth and (Moon)atee 5 - plus Kerfuffle, Dance Break, and Kelp
SLOTH: Would you like to introduce the comic, Manatee?
MANATEE: You do it, Sloth. I'm sure you will do a good job.
SLOTH: Let's introduce it together!
MANATEE: Well, that's a fine idea.
SLOTH AND MANATEE TOGETHER: Hello, and welcome to the comic in which we talk more with our new Moon-friend, and learn where they came from.
SLOTH: That was a splendid introduction.
MANATEE: Indeed it was, Sloth.
Please share this email with friends and relations! It's free and public and all.
SLOTH: Quite a story, that rock tells. Long-distance, too.
MANATEE: I wonder about that Typewriter Story.
SLOTH: Things are getting noisy in that story. I kind of want to go back to the Space Bar. That place was quiet.
MANATEE: I agree. That Shift-Lock key seems - keyed up. Get it?
SLOTH: You always have the jokes, Manatee.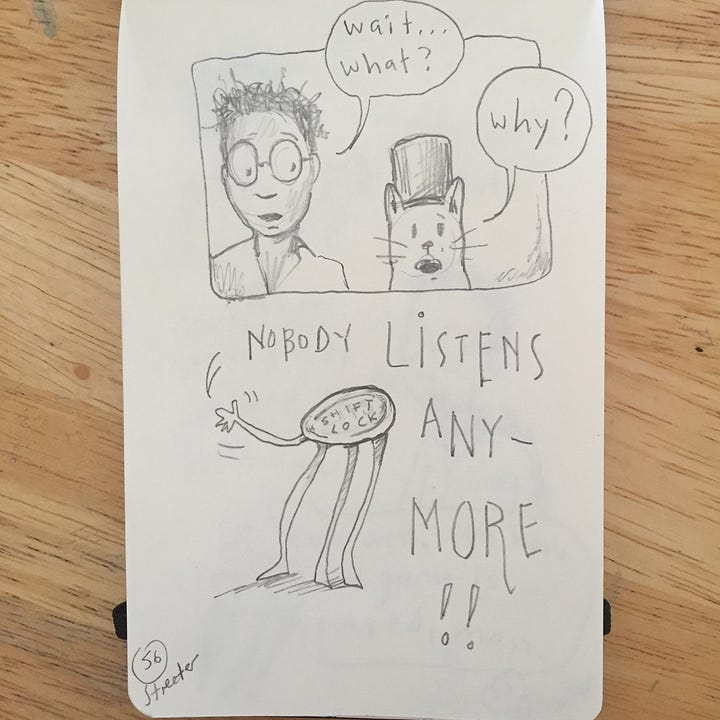 SLOTH: What's a kerfuffle?
MANATEE: I think it's like shenanigans, but more fight-y.
SLOTH: That Angry I sounds fight-y to me.
MANATEE: Yes yes, I wonder what will happen.
SLOTH: Do you think lions get hairballs?
MANATEE: What made you think of that?
SLOTH: Nothing, really - do you like mythical creatures?
MANATEE: You mean like us?
SLOTH: Are we mythical? I feel very real to myself.
MANATEE: Me too. I mean, to myself. But also you. You are real. A real friend.
The Sloth and The Manatee is supported by purchases of books and art and licensing of cartoons from The Book Shop, The Print/Card Shop, and CartoonStock, yes yes! Subscribing gets you the new stuff automatically each week in your email.
MANATEE: Sometimes I feel fancy, like putting some kelp on my head or something.
SLOTH: You would look nice with kelp on your head.
MANATEE: Thank you.
SLOTH AND MANATEE TOGETHER: DANCE BREAK!!!
EVENT ANNOUNCEMENT: If you are in the SF East Bay, there will be a to-do on Sunday, March 12th from 10am-4pm called Contra Costa Con 5, a lovely little con where there will be Sloth and Manatee books and tons of other goodies - come see! It will be great fun and it's a Star Wars theme so bring your lightsaber.
MANATEE: That was a good dance break.
SLOTH: Yes, I feel limbered up for sure. Now I might nap.
MANATEE: Me too. Have a nice nap, Sloth.
SLOTH: Sweet dreams, Manatee.
May you have a refreshing nap, may you do a little dance, won't you be my neighbor?