Trying to Have Patience
Sloth and (Moon)atee 21 - When You Can't See What's Happening
---
When we can't see what's going on, sometimes we have to wait and exercise our patience and trust that things will work out all right…
Friends are different, which is why they are friends and not the same person. Some potential friends might be small and you have to find them. Sloth and Manatee sure are both wearing concerned faces looking down at that lil tree. Manatee is right — this might take a minute.
Thanks for reading The Sloth and The Manatee! Subscribe for free to receive new posts and support my work.
---
New Thing - Recommend new subscribers, get strange little gifts from me!
Click that "refer a friend" button below, or Share this letter, and when people sign up, you get credit and receive peculiar rewards! 3 referrals gets you emailed the Aardvark reward, 5 gets you emailed the Lion reward, and 10 means I make you a Thinking Card! Such a lovely way to bring more friends. I hope you'll try it.
---
Not-Tarot: Whatchoo Looking At?
This one feels a tad confrontational. Those peering eye things in the stained glass, and that rooster is giving us a look. Makes me wonder simultaneously about distraction and self-consciousness.
Are we supposed to be so flummoxed by this bird we fail to notice that door? Or should we notice the door, but let that rooster push us off? Or is the rooster there to call our attention? It's possible this speaks of a transition, trying to happen, lurking there, but we're still too self-conscious for it.
Mountains wait in the distance, a tough walk across a barren landscape. We could head out toward those, but in doing so would be be foregoing the door?
Recently I read about procrastination being a trauma response, departing from the usual assumption that it's laziness. Taking action drags thoughts into tangibility, setting off change. Overwhelm lurks there. Gathering barriers in front of ourselves fools us into feeling protected. My thoughts here are partial, I'm mulling it over.
If I found myself in this place I think I would try and befriend that rooster, in hopes it might remain chill. Maybe then it might let me peek behind that door. Maybe that rooster previously arrived through the door, and is waiting for someone with thumbs to open it so it can get back home. Maybe the rooster needs a friend.
---
I made friends with a leaf
Yup, walked out the front door, grabbed one of these fellows, and drew the heck out of it. Spent some time. Spent a lot of time with colors that were not green.
For me there's a moment when a drawing pops to life. Right around that third picture, there. It solidifies and lifts up, in a way. Doesn't matter what the subject matter is. I work for that moment.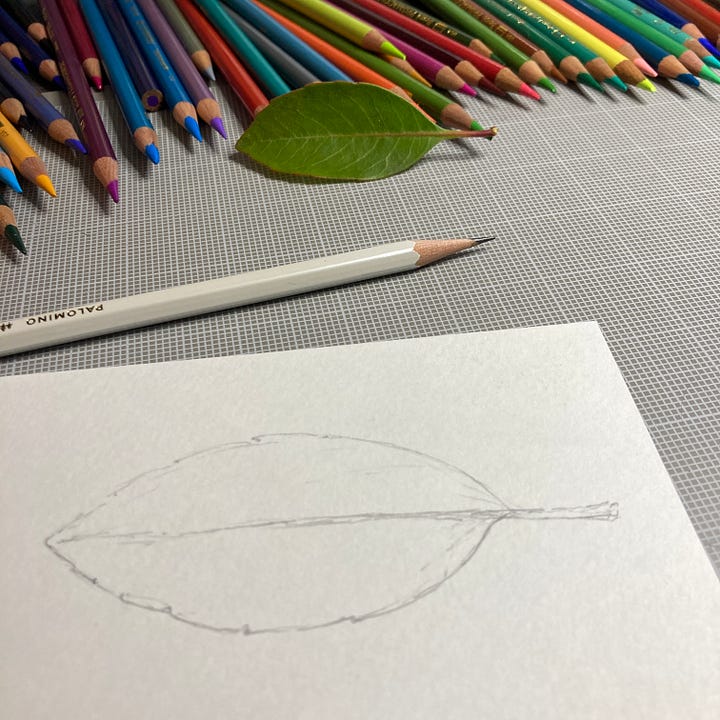 This week I was out on a run and I ended up listening to the sounds the trees were making when the breeze would riffle through them - and wondering about whether there are creatures (I'm positive there are many) that can discern the time of year or navigate or figure out other things from the sounds of the trees and how many leaves there seem to be or what kinds of leaves or the state of those leaves, dry, budding, about to fall — It seems like there's so much information flowing around up there.
---
I think I've mentioned (of course I have), I'm making an 8-volume Best of Brainwaves series - I had to scan in the first 200 since they stretch back to the days of photocopying and mailing envelopes stuffed with drawings to maybe-interested magazines and newspapers. Progress, the first book is over half-done. Each book will have some 200 cartoons in there. In the meantime you can license cartoons from CartoonStock, for your presentations and newsletters and other expressions. There are so many. Like a giant school of sketchy fish.
---
Did you hear that the universe hums to itself? Like the breathing sounds of a distant highway late at night, is how I interpret this.
---
May you hum peacefully to yourself, may you locate something small that you had misplaced, won't you be my neighbor? -Betsy
Thanks for reading The Sloth and The Manatee! Subscribe for free to receive new posts and support my work.