Taking a Closer Look
Sloth and (Moon)atee 10 - also Air Harmonica, and a bit of Kermit
Sloth and Manatee are friends. They are currently on the moon. They have also been all around on the Earth and in the Ocean.
Hey, mister tambourine man, play a song for me -Shatner
Oh no, love, you're not alone -Bowie
I promised my girlfriend I'd take up the violin violin violin -Avalanches
Heaven knows you're lost
But you'll be fine, yeah, you'll be fine
Heaven knows we're lost
The sun still shines, so we'll be fine
-Phum Viphurit, "Hello Anxiety"
If you know someone who enjoys tambourine or shoes or harmonicas, please share this post with them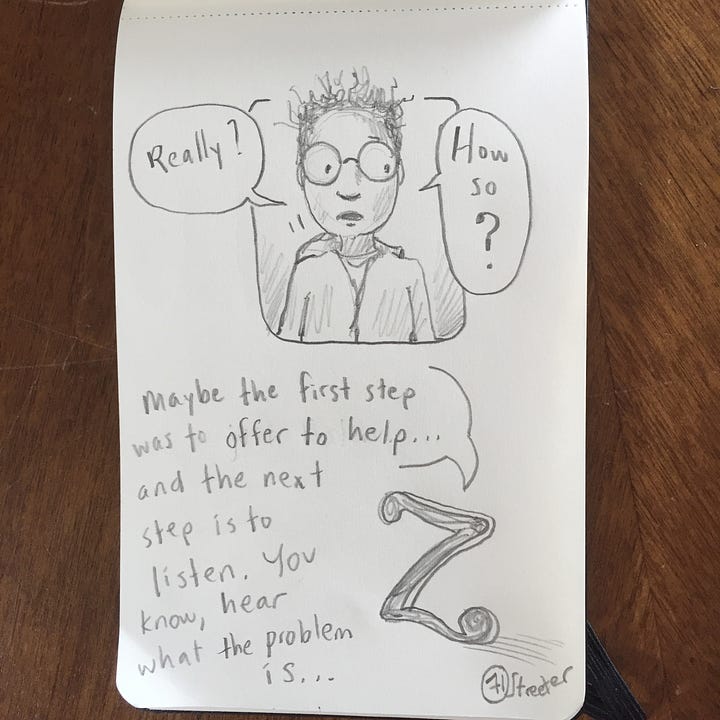 You just kinda wasted my precious time
But don't think twice, it's all right
-Dylan
Sometimes you wanna go
Where everybody knows your name
And they're always glad you came
You want to go where people know, people are all the same
You want to go where everybody knows your name
-Theme from "Cheers"
You're gonna need a quality shoe. -Mark Knopfler
License cartoons for all your presentation, newsletter, book, magazine, refrigerator, and smoke signal needs at CartoonStock
I did it my way. -Frank Sinatra, Sid Vicious
When you change yourself, you change the world -Gojira
I'm all lost in the supermarket
I can no longer shop happily
I came in here for that special offer
A guaranteed personality
-The Clash
Life was easy, when it was boring -The Police
If you are a subscriber, fantastic, and if you're not yet, Alberta McGonagle would love to have you.
Whether you're a brother or whether you're a mother,
you're stayin' alive, stayin' alive.
Feel the city breakin' and everybody shakin',
and we're stayin' alive, stayin' alive.
-Bee Gees
Welcome to your life
There's no turning back
-Tears for Fears
What's so amazing that keeps us stargazing
And what do we think we might see?
-Kermit the Frog
As of this lil newsletter I've got a couple commission slots open, get a fantasy portrait of your pet or your mom's pet or your favorite animal or your friend's favorite animal, from straight portraits to, well, the image below, details can be found here, yes yes
Some more things you can get as Prints and Cards and Stickers and now smaller 4x4 Art Prints which is lovely as a gift or postcard: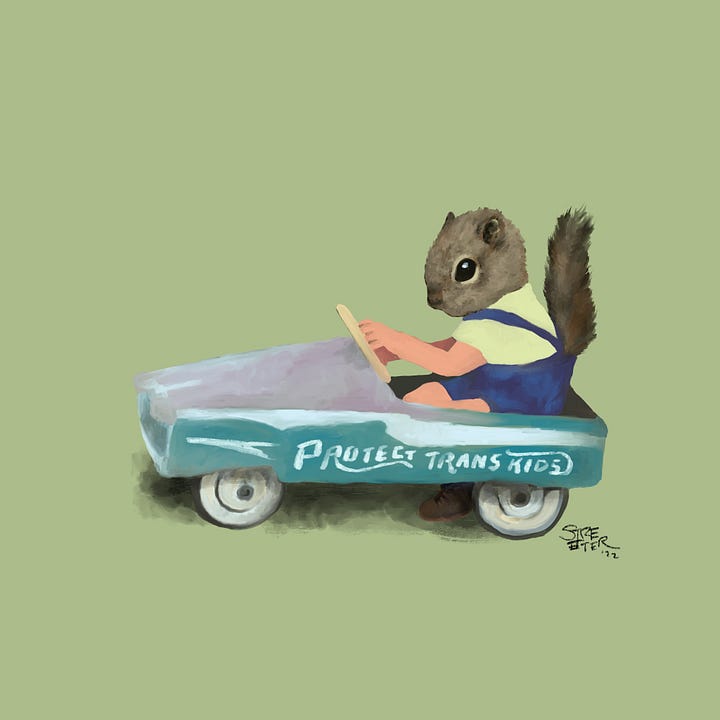 Thanks for comin' on by!
May you wear quality shoes, may you do it your way, won't you be my neighbor?