Finding Everything But What You Need
Sloth and (Moon)atee 17 - What is all that stuff for? Plus: A New Nonexistent Tarot
---
Sloth and Manatee are microscopic right now, the size of the Tardigrades, their new friends:
While Sloth can pull things out of that sleeve, what comes out may have more to do with Sloth's current mental state than any kind of super power or particular problem to solve. Which begs the question, why sporting equipment? And a plant? And how does this work on the Moon? Questions.
---
Next in Nonexistent Tarot, Road (or Path)
Here is the card:
Boy oh boy, this one is a lot of interpretations of the concept. Obviously there's the literal road right down the middle, but then we see an astronaut, suggesting travel beyond our own planet (or transcending our Earthly circumstances). On the left, the power poles are a "path" for energy to move around, though these don't seem to have power lines as if to suggest they are potential, but not realized yet.
Music at the lower left lays down a road for our ears/minds through time, from one person to another, by way of mutual experience or receiving someone else's creation. (Music sure seems to show up in these cards a lot).
A path can also mean decision-making, or choosing, as the road-sign symbol at the upper left suggests. And time is its own road, the way we move through reality without everything happening at once - as depicted by the hourglass symbol.
What else do you see? What does this make you think about, in terms of travel, or the less-traveled, or choices?
(I should mention, I do not know what I am doing, and am not psychic nor can I tell the future, so make of these what you will, but if they touch off interesting thoughts for you, that's totally groovy)
---
If you're already a subscriber, Yay! And if not, the eagle would love to have you
---
More thinking cards this week, I'm making some for friends - it's gonna be super interesting to see what their reactions are - each one has an image on one side and a word on the other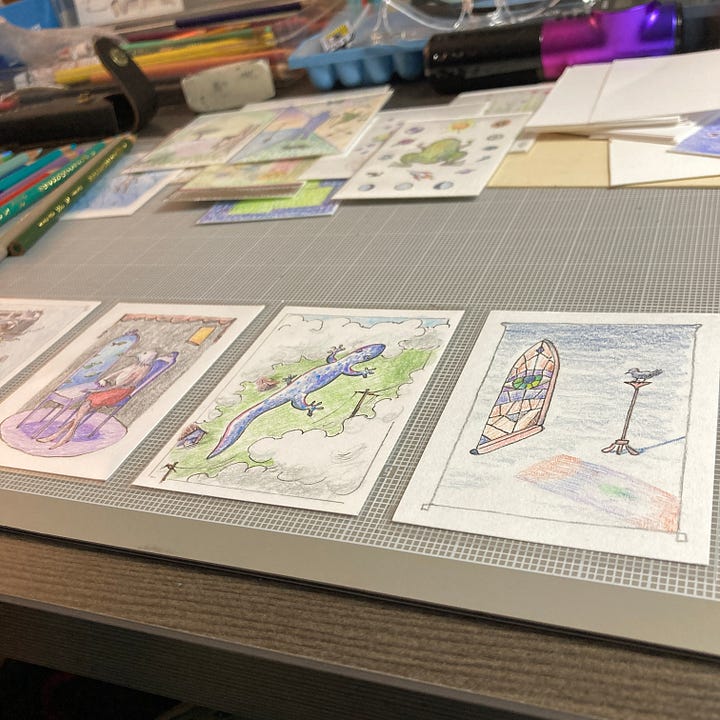 I may start offering these as a bit of a service, we'll see how it goes!
---
---
I think this maybe might kind of be a bit of a self-portrait
---
May you walk down a peaceful path, may you gain some clarity, won't you be my neighbor? -Betsy
Thanks for reading The Sloth and The Manatee! Subscribe for free to receive new posts and support my work.