The First Thing You Do When You Go to the Moon
Sloth and (Moon)atee 8 - Eat, and flail around
Sloth and Manatee are friends. They are currently on the moon. They have also been all around on the Earth and in the Ocean.
Not unlike what the Distant Cow did in the first book
Sand is not all that bad. - Darth Vader's therapist

The darkest hours come before breakfast. - a Bear

It's hard to get a sunburn from inside a cave. - Bats

When faced with a choice, do both! - Zebras
If you know someone who enjoys sand or toast or low-gravity environments, please share this post with them
It's a fine line between nicely crisp and burnt. - Toaster

If your lightsaber is red, you've got some self-examination to do. -Darth Vader's therapist

You're not afraid of the dark, you're afraid of what's lurking in the dark. Which is me. - Freddy Krueger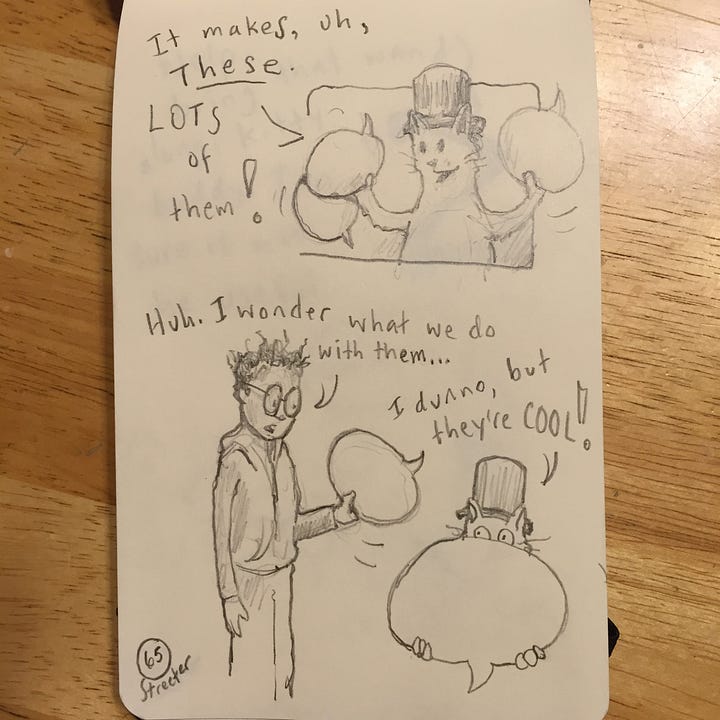 Would it kill you to leave the drawer open sometimes? You got any idea how boring it is in here? - Socks

Don't step in that. - a Shoe

If you can't fight, wear a big hat. - Spanish proverb

The brightest hours come before breakfast. - Dracula
License cartoons for all your book, newsletter, presentation, merchandise, refrigerator door, and tattoo (not really but that would be cool) needs
Outside of a dog, a book is man's best friend. Inside of a dog it's too dark to read. - Groucho Marx
I might be your high school yearbooks, or I might be a monster. It's up to you. - The area underneath your bed
I like to hoot at night because it's when all the other birds shut up and I can get a word in edgewise. - an Owl
If you are a subscriber, fantastic, and if you're not yet, the Wise Rock and Frog of Knowledge would love to have you.
Wow, it's bright out here! - Sprouting plant
Woooooooooooooo. - a Ghost
Whoooooshhhh! - a Comet
Woah! - a Cowboy
What? - somebody who didn't hear you
Whatever. - the nearest tween
Warble! - a warbler
When will this ridiculous list end? - You, probably
Easy Rider Capybara fellow (available as a print/card/sticker)
Sketch
Final
That's in the Print Shop which has stickers now too, pretty cool
The Sloth and The Manatee is supported by sales of books, like Sofa Stories, a picture book for grownups filled with micro stories about animal characters mostly sitting on midcentury furniture - printed as a numbered edition. Contains angst, grief, hilarity, awkwardness, and a few swears.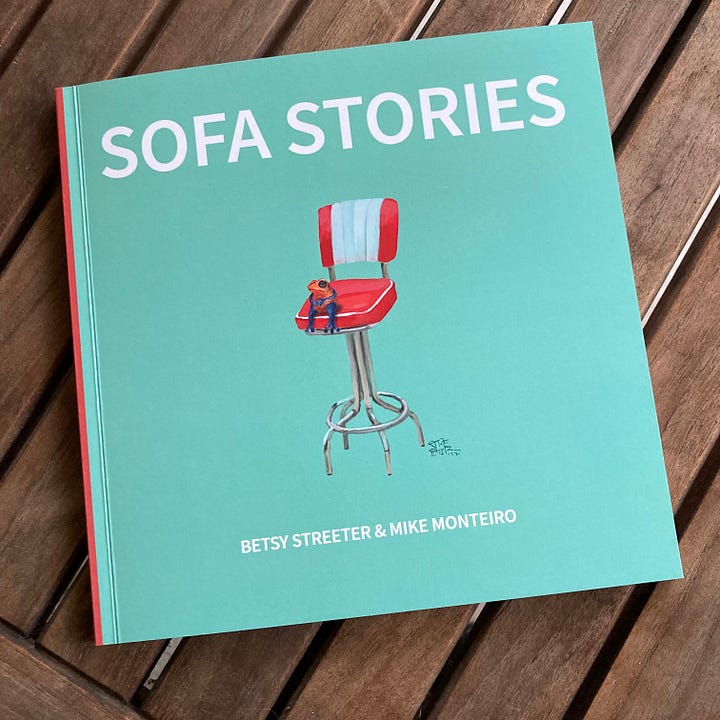 May you find your way in the dark, may you hear an owl at night, won't you be my neighbor?