The Story of How Sloth and Manatee Got Started
Friends, in a Bank Vault, Looking for Cake
Sloth and Manatee got their start in the vault of an abandoned bank branch that a friend had converted into a pop-up gallery. No one really knew what to do with the vault, so I'd been filling it with installation art, action figures, branches, strings of lights, music recordings, and other whatnot.
Out of that came a story, that the first installment of which is here.
The safe deposit boxes made a sort of a grid, nice for displaying a comic that proceeded along physically in the room. It started like this:
People voted on what would happen next, the whole thing was marching along.
Pretty soon, Manatee showed up, from space, to say hello:
(Wait, I should point out that Space Manatee actually had an even EARLIER origin, in an experimental pen and ink drawing:)
Okay anyway back to the story:
Manatee noticed a Sloth in the kitchen, who had apparently come over to make soup: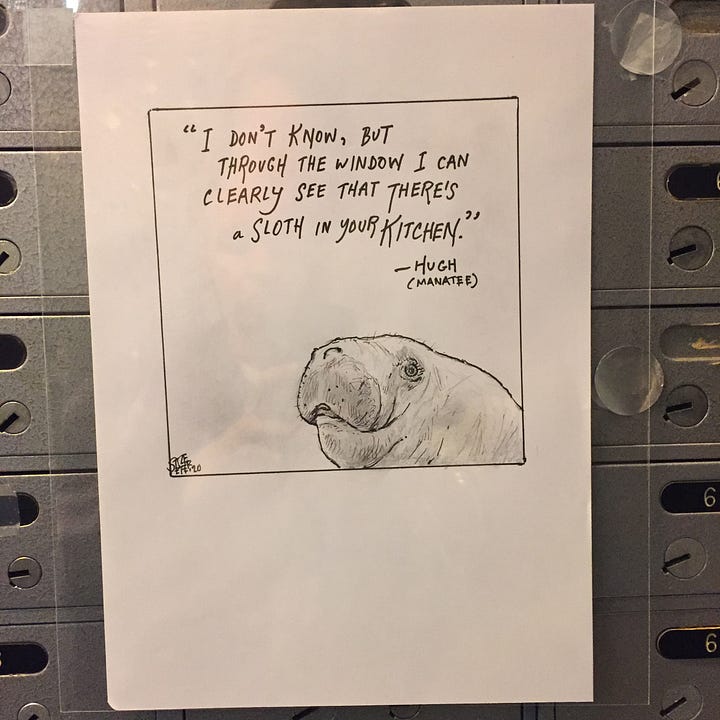 As they were enjoying their soup, Kitty found a key, and got lost, and the whole thing was looking like this (See? The boxes make cool 3D-ish comic panels!):
Over soup Sloth and Manatee determined they needed to go find their disappeared friend. So off they went:
They knew their friend liked cake, so they checked the Mini-Mart first. The Mini-Mart was run by Harriet, a Pangolin.
Harriet was unclear on the concept of "cake."
And this, friends, is where the pandemic hit.
Sloth and Manatee came home, with all the other drawings, and that could have been that, except that the friends really seemed to want to cruise around more. And so they started a comic, and here's the very first one:
Sloth and Manatee became something sweet for friends to read during the lockdowns. I kept on drawing each day, and pretty soon they were hanging out with The Distant Cow, and the Frog of Knowledge, and the Wise Rock, and gophers and lizards and other fellows, and then they went in the ocean, and hung out there, and they got a First Book, and then a Second Book, and these days, they are on the Moon, in this here newsletter (starting here).
The Sloth and The Manatee is free - subscribe to get new comics and art and animations and whatnot each week-end, yes yes
Oh, and Birthday Kitty also came from a drawing, just to complete all the references:
And that, friends, is how this whole mess got started.
Thank you for reading, and please come along as these fellows cruise around and wonder things and most of all, make friends, which can happen in the most unexpected of places, even an empty bank vault.
P.P.S. The friend who started the pop-up gallery is Jennifer Perlmutter, who now runs a gallery in Carmel California, check her out!