A Friend is Found
Sloth and (Moon)atee 16 - and we learn the Tardigrades' names
Hello Friend, and welcome to The Sloth and The Manatee - Saturday morning art, cartoons, animation, and nonsense involving a Sloth and a Manatee hanging around on the Moon with a bunch of Tardigrades currently, plus a host of other fellows. Support this mess by liking, sharing, and subscribing, or purchasing Books or Art. And, Thank You for being here, yes yes!
---
Next in Nonexistent Tarot, Time and Space
Here is the card:
Well, there's a lot to think about here - Time and Space are kind of large concepts, that can be about literally anything - but on this card there are some particular elements at play -
The space background suggests how the universe is both within us, but inaccessible to us, constantly evolving and expanding. The eagle seems to be coming in for a landing, perhaps to grab hold of a moment. Its movement requires both time and space to exist, and each beat of its wings is like a beat in music. The building is abandoned, but hasn't always been - and the space it sits on will continue to change. The sword suggests the idea that when you swing a weapon, you need both time and space in order to do that. It is also made of metal that had to form over a vast period of time before being even available to be sword-ified. And the telephone is an invention that can bring people together across space at the same time.
In all, it is many interpretations of the ways that time and space connect us, separate us, and change us and the things around us. Some are physical, others are psychological. Some are on a human or animal scale while others are cosmic.
Pretty darn deep, dude.
---
If you're already a subscriber, Yay! And if not, the eagle would love to have you
---
Aw, it's the conclusion of the Typewriter Story. I hope you've enjoyed it: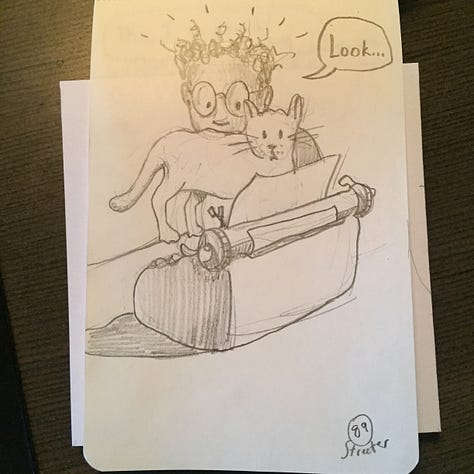 ---
I have been making "thinking cards," where I draw and write stuff about things that help maintain my mentality - picture on the front, a couple words on the back - they really help. I get some of the thoughts from marking up pages from my own novels, which is interesting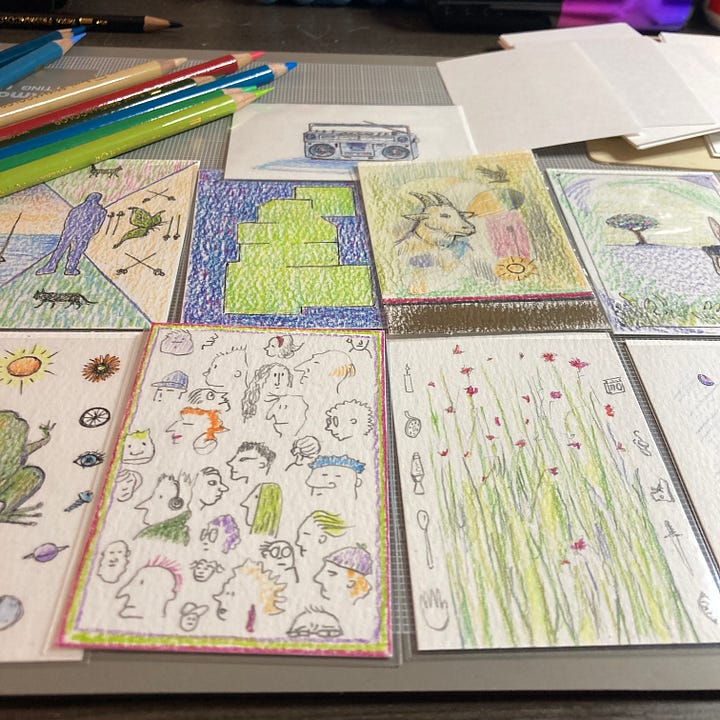 What would you make a thinking card about?
---
Finally, you may have heard of these Orca fellows toppling boats, because they are just that brilliant - this original fellow is available for sale in the shop, to hang out with, or if you'd like to send em to a friend (friends send friends art)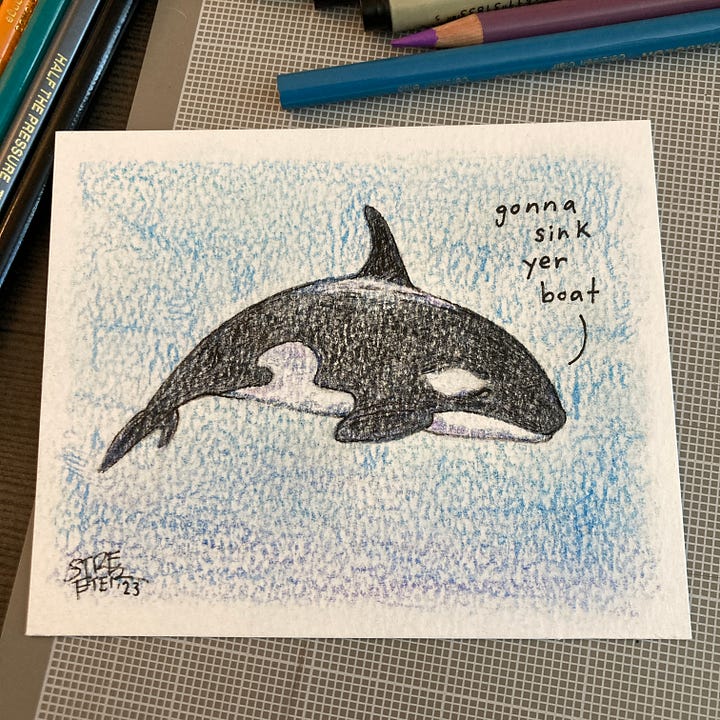 ---
As promised, Capybara at sunset:
May you enjoy a lovely view, may your space and time be filled with good things, won't you be my neighbor?
Thanks for reading The Sloth and The Manatee! Subscribe for free to receive new posts and support my work.