Misplacing a Friend
Sloth and (Moon)atee 15 - and, Hamsters Dance on the Beach
The Sloth and The Manatee is a very small corner of the Internet made of art, animation, and stories involving a Sloth and a Manatee hanging around on the Moon with a bunch of Tardigrades currently, plus a host of other fellows. Support this mess by liking, sharing, and subscribing, or purchasing Books or Art. And, Thank You for being here, yes yes!
---
Next up in Nonexistent Tarot, the Three of Threes
First, here is the card:
This card is about, obviously, the magical number Three, the number that turns a corner into a triangle, an interval into a chord, a pair into a group, a ladder into a stool.
In this card, three hamsters dance on a beach at night while three phases of the moon look down upon them. The full moon is singing along, most likely in a duet with the ocean. Each hamster has their own vibe and style of dance, and one brought along a guitar. In the foreground are three ways of engaging with music: The boom box, the vinyl record, and the snare drum, depicting a range of recorded, remixed, and self-made music. They are partially buried in the sand, to convey how expression transcends time.
This card is a reminder to invite in the extra ideas and friends and to find more than one way to make your own music or story or creation. It also reminds us that there is always a third option, that going beyond a binary opens up the world and makes it a safer place for ideas and the unexpected.
Maybe the Three of Threes makes you think of something unique to your own life or philosophy or reminds you of something lovely or hopeful.
---
If you're already a subscriber, Yay! And if not, the dancing hamsters would love to have you
---
Meanwhile in the Typewriter Story: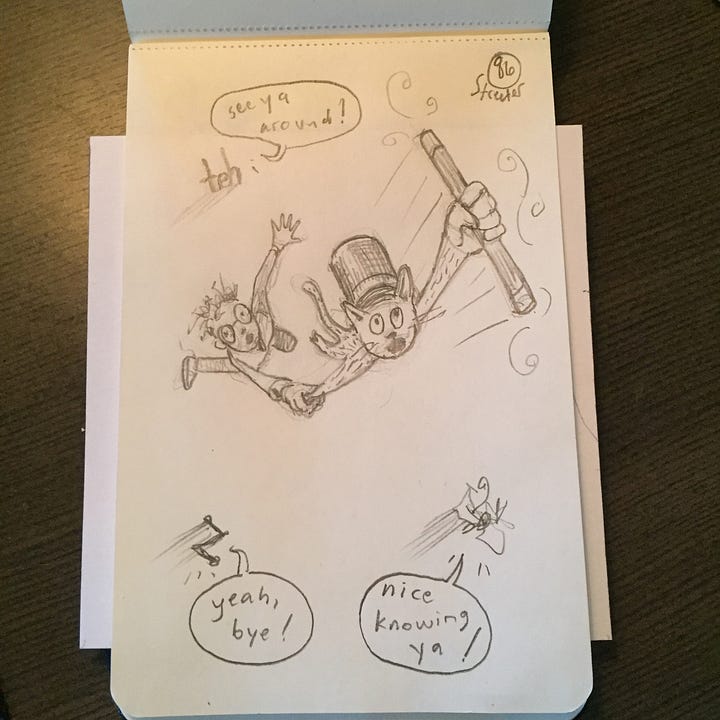 ---
I've now sifted through and counted up all the Brainwaves cartoons that will go into the collection, and there are - 1,680 of them. So now, it's figuring out how the heck to organize those and package em up - four books? Eight? Zines? A puzzle box? A big burlap bag? A deck of cards? Maybe it comes with a bike tire repair kit? Or a stuffed animal? It remains to be seen.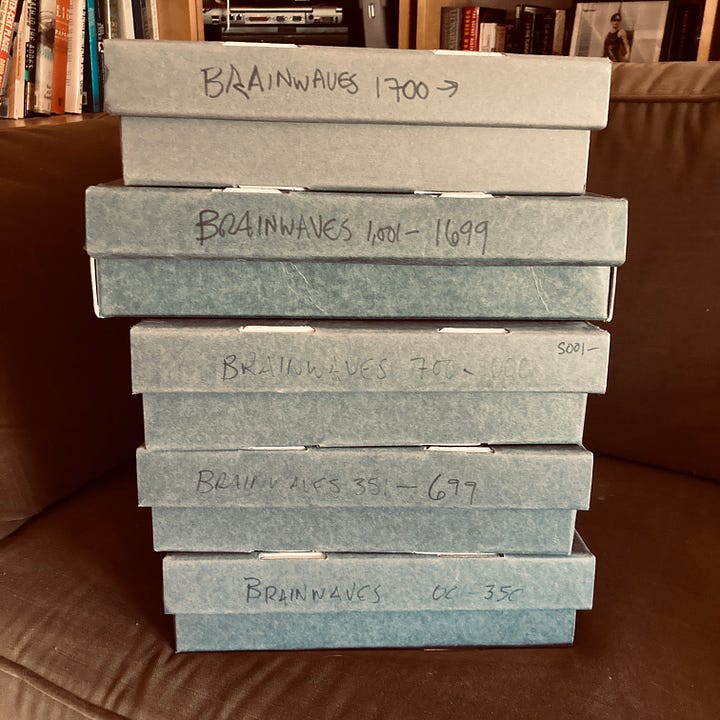 ---
I've been making little "thinking cards" where I pull words or phrases or dreams from my journal, write them on the back, and then make some kind of intuitive art on the front. The one here with the bunny with binoculars says "Zoom in" on the back.
May your persistence pay off, may you discover some magical use of the number Three, won't you be my neighbor?
Speaking of whom, a lil sketch
Thanks for reading The Sloth and The Manatee! Subscribe for free to receive new posts and support my work.