Keeping in Touch
Sloth and (Moon)atee 20 - Plus a really obvious Orca joke
---
It is just like Sloth to be all concerned about how to stay in touch with their new microscopic Tardigrade friends, now that Sloth and Manatee have re-expanded to their normal size. Friends of all sizes…
Thanks for reading The Sloth and The Manatee! Subscribe for free to receive new posts and support my work.
You may notice that the drawing style is evolving as we go - I'm letting that happen naturally. I worked for quite a while in the design world, where everything was like, you have to have a system, and a style guide, and you sell this to the client, and stuff has to be all uniform - but that's not how art works. Don't be afraid to adapt and change, or try another method. There's no one right answer, no one 'product.' And it's fun to see how these fellows come out! After all, they started out as pencil doodles. So as far as I'm concerned, it's all legit.
---
A New Thing - Recommend new subscribers, get stuff from me!
Yes, it's a New Thing you can do here - You can click that "refer a friend" button below, or Share this letter, and when people sign up, you get credit and I give you stuff! 3 referrals = the Aardvark reward, 5 = the Lion reward, and 10 means I make you a Thinking Card! It's a lovely way to bring more friends. Hooray! I hope you'll try it.
---
Whenever I go to describe what Sloth and Manatee is about, I always start like this: "Sloth and Manatee are friends." I was wondering what I mean by that. So I sketched: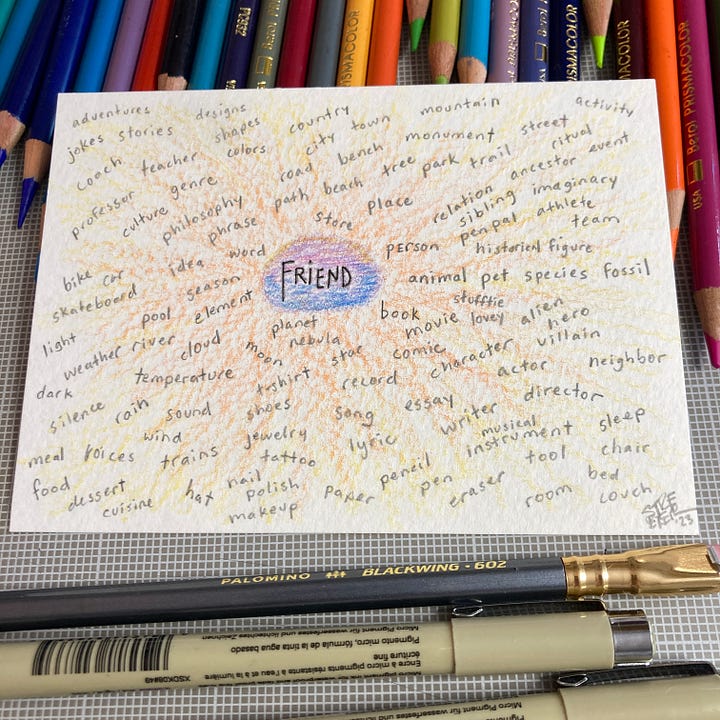 I realized that for me, friendship is a super duper broad thing - a kind of partnership, or awareness, or help, that can go all sorts of directions. It can be useful, or supportive, or silly. It's kind of traveling along together, and saying, "we are friends." Or, "This is my favorite painting." Or animal. Or color. Or you're fascinated by something or someone. To me, that's also friendship. So, Sloth and Manatee is about friendship, in the broadest, most galactic sense. Which is why they go around befriending all sorts of creatures and rocks and trees and things.
I immediately started thinking of more stuff after drawing this. I need a bigger piece of paper.
---
This week's non-Tarot card: Clarity/Obscurity
How we feel about seeing vs. being seen, whether we think we are seeing clearly or being seen clearly. Sometimes, we make a lot of noise in an attempt to change our situation. Are we unhappy because we are not being seen, or being seen as something we are not? Do we feel hidden? Ignored? Over-exposed? What can we do about that?
Some of us feel like being seen is the thing that makes us real. Others don't want to be seen, but we want our work to be seen. Some don't want to be perceived at all. It's different for everybody. And it changes through life. During super sketchy times we might need a minute to ourselves, or we might need to ask somebody to help us out. Being seen as both safety and vulnerability.
And then sometimes, we get frustrated or agitated or traumatized, and we blot ourselves out entirely. But in my experience I find, things we blot out always come back. I can try to stow things away, but they always seem to return.
The collar I think is a reference to affectations we use to hide how we are doing.
How do you interpret the snake?
All brought to us by Baphomet, patron saint of duality and multiple things being true, which feels right.
---
Surely a lot of people have thought of this already, but I did too, so here's my version:
Anyway.
---
---
May you feel like you're not in the way (you're not!), may you make friends with a book or a beach or a tree (friends of all sizes), won't you be my neighbor?
Thanks for reading The Sloth and The Manatee! Subscribe for free to receive new posts and support my work.