Changing Shape
Sloth and (Moon)atee 19 - Friends of All Sizes
---
Sloth and Manatee shrunk down to microscopic size to hang out with their new Tardigrade friends, but they can't stay that tiny forever…
Um, what?
Anyway.
(Please hit like or share to support this letter! It makes all the difference.)
---
New lil original up for sale, in which Capybara and Elephant hang out and skateboard together - 4 by 6 inches, on lovely watercolor paper, yes yes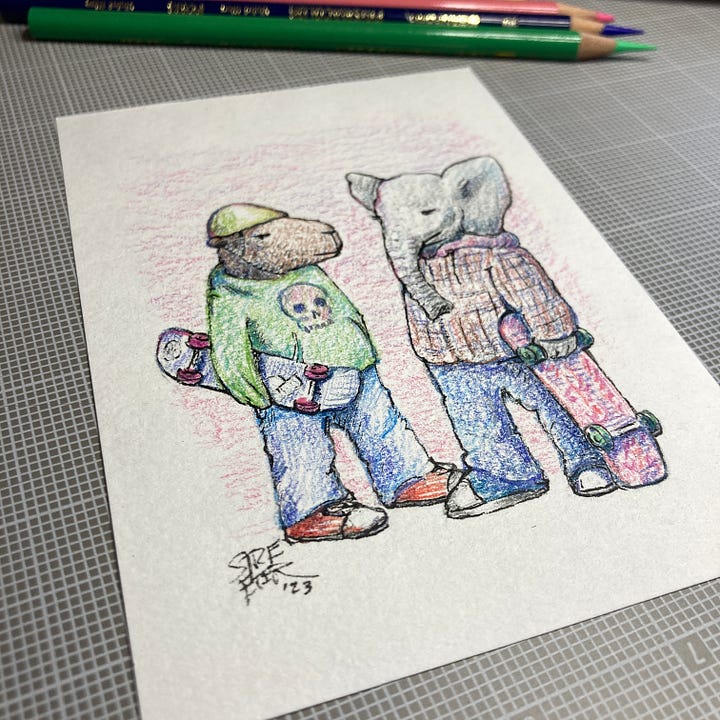 The Sloth and The Manatee is free weekly art and nonsense. Subscribe to support, and get goodies in your email that aren't scams or the bazillionth ad from that thing you got on the list for and you're not sure how.
---
Nonexistent Tarot: The Judge
This feels like a card you'll see really differently depending on what kind of day you are having. Also it's called The Judge, but where's the Judge? What the heck?
This card is about depth. That could be profound or menacing, depending. What it definitely depicts is, the differences that you find at different depths of perception.
We are usually flailing around in the waves at the top, which might be immediate feelings, or doomscrolling, or personal shenanigans. It's loud, it's always moving, and why the heck would you get beyond that?
But below, there is another ecosystem, totally unseen, that is also moving with the waves (and incidentally the moon of course), and that has other life in it. And other sounds and shapes and colors.
And then, there are the entities far below who make their own light and shapes, far from the waves but still affected because everything is in the same water. That Angler Fish looks tough, but it's just making its way like every other living thing does.
It's called The Judge because it's a reminder that no matter what, there is always, always more going on, more to the story, that person who cut you off in traffic has whatever on their mind, that weed in the sidewalk has roots that go somewhere, there is always more. So we have to beware judging only by the waves at the top.
That's my initial reaction to this one, maybe you have other interpretations or more things jump out at you. What do you think?
---
License cartoons at CartoonStock
---
May you hear a good joke, may you find something unexpected, won't you be my neighbor? -Betsy